Many dealerships ask: how do we consistently offer exceptional customer service? To answer this question, SATISFYD sat down with Larry Cole Ph.D to talk about the role of leadership, accountability, and employee empowerment in making transformational change.
Having earned a Ph.D in psychology before founding his own consulting company, Larry is an expert in helping dealerships achieve operational excellence and long-term success by developing their people. You can watch the session by clicking here.
Creating Transformational Customer Service
The Psychology of Customer Service
The psychology of customer service all boils down to a simple equation: a ratio of what we receive versus what we expected. If we expect exceptional customer service but we receive mediocre, we're going to be disappointed. Yet, if we expect poor customer service and in fact have a positive experience, we'll be wowed. Therefore, dealerships can't just aim to meet customer expectations; they must strive to exceed them.

The backbone of exceptional customer service is trust. Yet, how do we build it?
Firstly, by showing genuine care for customers by listening to and understanding their needs.
Secondly, by continuously finding ways to improve service and add value to customers' operations.
By doing both simultaneously, it's possible to build trust that inevitably translates into long-term, deeply loyal partnerships.

It's important to remember that external customer service is always an extension of what's going on within the dealership; it inevitably mirrors internal relations. Any conflicts, resentments, or communication gaps among the employees often become apparent in the customer experience. Therefore, developing great service starts before a single customer interaction has even taken place.
Responsibility of Supervisors
The best teachers and coaches are people who are continually working on their own professional development. Supervisors must lead by example by maximizing their own potential and developing their own talent.

Like a pair of train tracks that only function when both are maintained together, the technical track and people track must be carefully maintained to keep the organization moving forward smoothly. Supervisors need to teach both technical skills and people skills. There's a misconception that you can't teach people skills, yet the truth is that a successful supervisor can. So, the key trait of a successful supervisor? Deriving genuine enjoyment from making the people they're managing better.
Reframing Accountability
Accountability often has negative connotations because people associate it with a disciplinary process. Yet, accountability can be reframed as empowering people with the feedback and tools they need to be successful. This paradigm shift will allow employees to see feedback as a teaching tool, not a disciplinary action.
There are three levels of accountability within an organization:
First, executive management must ensure that expectations, for example, customer service metrics, are clearly defined.
Next, supervisors must lead by example by taking accountability for their own learning and development.
The third layer is that customer service employees are held accountable for meeting and exceeding expectations.
When it comes to transformational customer service, change must start at the top to produce bottom-up commitment. Crucially, supervisors must model effective behaviors. In psychology, there is a concept known as leadership shadow; the longer we work with a supervisor, the more likely we are to acquire the characteristics of that supervisor unconsciously.

Part of implementing top-down change is establishing metrics. It's not enough for executives to have access to data. It's not even enough for frontline employees to have it. The data needs to be 'put to work' in a way that can create tangible change.

So, when customer service problems are identified, there are three questions to ask:
Why did it occur?
What did we learn from it?
And most importantly: what are we going to do to ensure it doesn't happen again?
The customer service metrics and data derived from SATISFYD surveys is incredibly valuable when used to shape change.
Empowering Employees
The fundamental truth is that in order for organizations to get better, their people have got to get better. The CEO and executive team must see their responsibility as empowering their frontline employees. As well as clearly communicating what they want employees to do to wow customers, they must give them the authority to make independent decisions in real time.

When it comes to making lasting change, training sessions aren't enough because employees often go back to the behavior patterns that are ingrained or feel comfortable. There need to be systems in place to maintain the new behaviors learned through training or - like a rubber band that's been stretched - old habits will ping back into place as soon as outside force is taken away.

To maintain new behaviors and norms, discuss the importance of a specific aspect of your customer service process at the beginning of each formal meeting. Cite and discuss some success stories to foster an environment of continuous improvement. After all, when it comes to managing people and making a long-term transformational change: success breeds success.
The Road Ahead
Creating transformational customer service requires a multifaceted approach that encompasses leadership, accountability, and employee empowerment. To ensure lasting change, ongoing reinforcement and discussions should be integrated into regular meetings, celebrating successes and fostering a culture of continuous improvement. By implementing these strategies, organizations can achieve transformational customer service and drive long-term success.
If you want to learn how our solutions can help you track and automate your customer experience process, please reach out.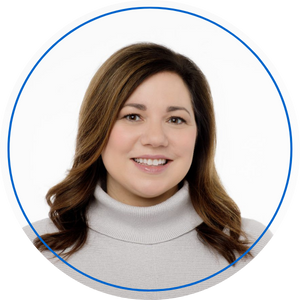 Emilie Spalla, Vice President at SATISFYD, has over 15 years of client relations experience in the manufacturing, agriculture, and construction industries. At SATISFYD, Emilie has created a customer-first environment, leading teams that deliver high-quality solutions that exceed customer expectations. She has worked closely with both enterprise and dealer groups and is passionate about helping them create customer experience excellence strategies and programs. Emilie is excited to help businesses provide the very best experience for their customers. Emilie holds a Business Management and Economics degree from Hope College. She is an avid mountain biker and resides in Traverse City, Michigan with her husband and two daughters.